This summer I had the opportunity to travel to Geneva and Switzerland. Unnecessary to say the main focus was horology and wrist watches. I only stayed there for five days but got to see a good deal of the country and visit some of the main horological shops and museums.
I flew to Geneva and used the city as a "base" to travel to other parts of the country. After a few days in Geneva I did a road trip to Basel with two stops in between; Bienne and La Chaux-de-Fonds. This road trip takes you through "watch valley" or Vallee de Joux, an area filled with beautiful vistas and horological history.
Shopping
First of all, Geneva is not that exciting as a city in itself. There are parts worth visiting (the old town is nice) but to be quite honest: the city does not have all that to offer except very expensive shopping and horological museums.
Bucherer, Rue de Rhone, Geneva. AD for Rolex, Tudor and a bunch of other brands. Only brand new watches, no vintage or second-hand. This goes for all the AD shops along the Rue de Rhone.
Had a look at the new Tudors here, and the service was good and informative. Although the clerk got a little defensive when I asked about Omega. He said that he knew absolutely nothing about Omega, and made it very clear that they did not sell the brand at Bucherer. Nothing? Strange thing to say, being from Switzerland and all.
Anyway, just a few blocks down the street I found the main Omega store. Again, the service was very good. A young Asian gentleman helped me out, and the lack of knowledge was compensated with an abundance of enthusiasm. A very nice visit.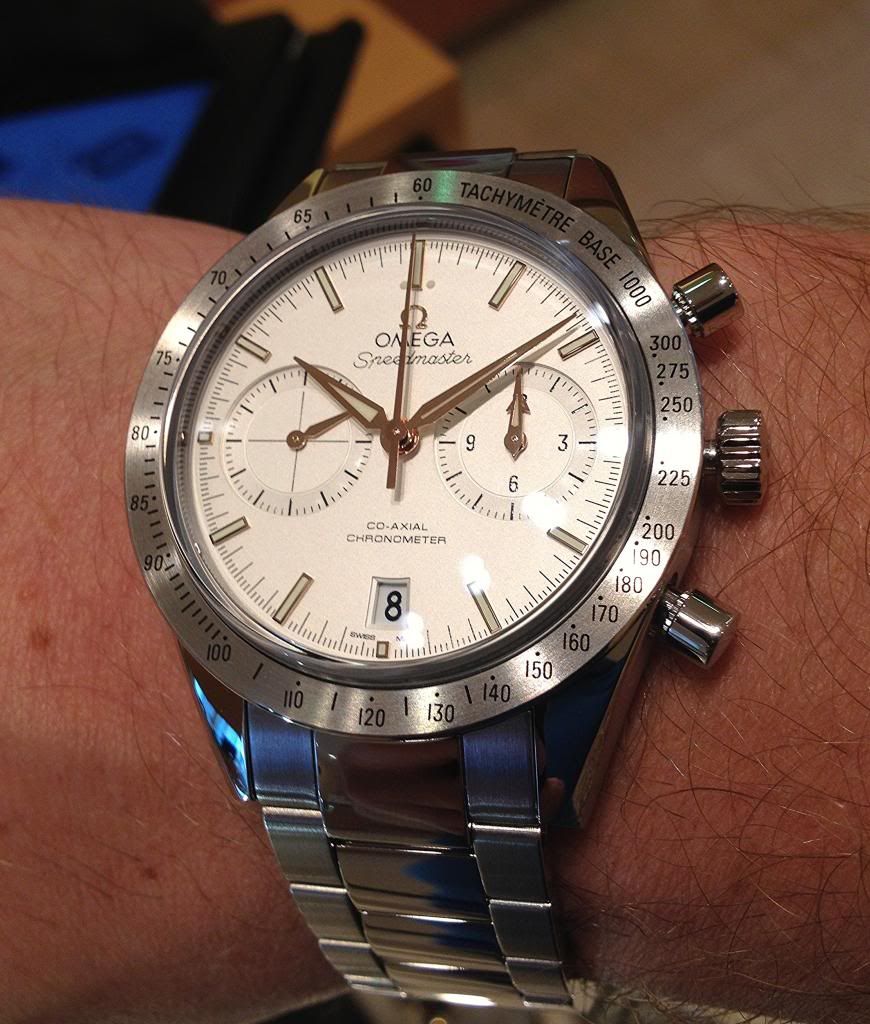 A really nice Speedmaster 57 housing the co-axial 9300 caliber courtesy Omega Store, Rue de Rhone. In a reasonable 42mm diameter case as well. Even for a vintage collector this piece is very tempting!
Needless to say, I did not visit all the stores along the Rue de Rhone. There are many and all the major brands are represented. I visited the ones I found most interesting, Breguet being one of them. I noticed that Breguet also had a clerk of Asian decent. Probably to better serve the influx of Asian tourists, especially from China. The last two visited was the official Jaeger LeCoultre and Panerai stores. And I must say, the service was excellent in all of them.
Rue de Marche also has its share of watch stores, but mostly with mid-price brands like Tissot, Frederick Constant, Rado and so forth. What about vintage? Well, there are a few stores but not many, and I had to ask around a bit before someone gave me the directions to one of them: Au Vieil Horologer.
One of three vintage watch stores in Geneva: Au Vieil Horloger is found in Rue du Cendrier, on the other side of the river from Rue de Rhone
Quite a few pieces on display and all of them in the window. The proprietor Olivier Guttly was forthcoming and finally someone I could talk "vintage" with. I asked him about the lack of second-hand and vintage stores in Geneva. He said there were quite a few some years ago, but after the major auction houses had established themselves here, they had disappeared one after the other. Most collectors and sellers prefer to sell their pieces through these houses, in auctions usually held three or four times a year.
At Au Vieil Horologer I had a look at several Omega Seamasters, mostly from the fifties, quite reasonably priced considering their recent service and the warranty offered if purchased. Some high-end vintage also, like this Audemars Piguet Royal Oak, A-series, ca. 1973.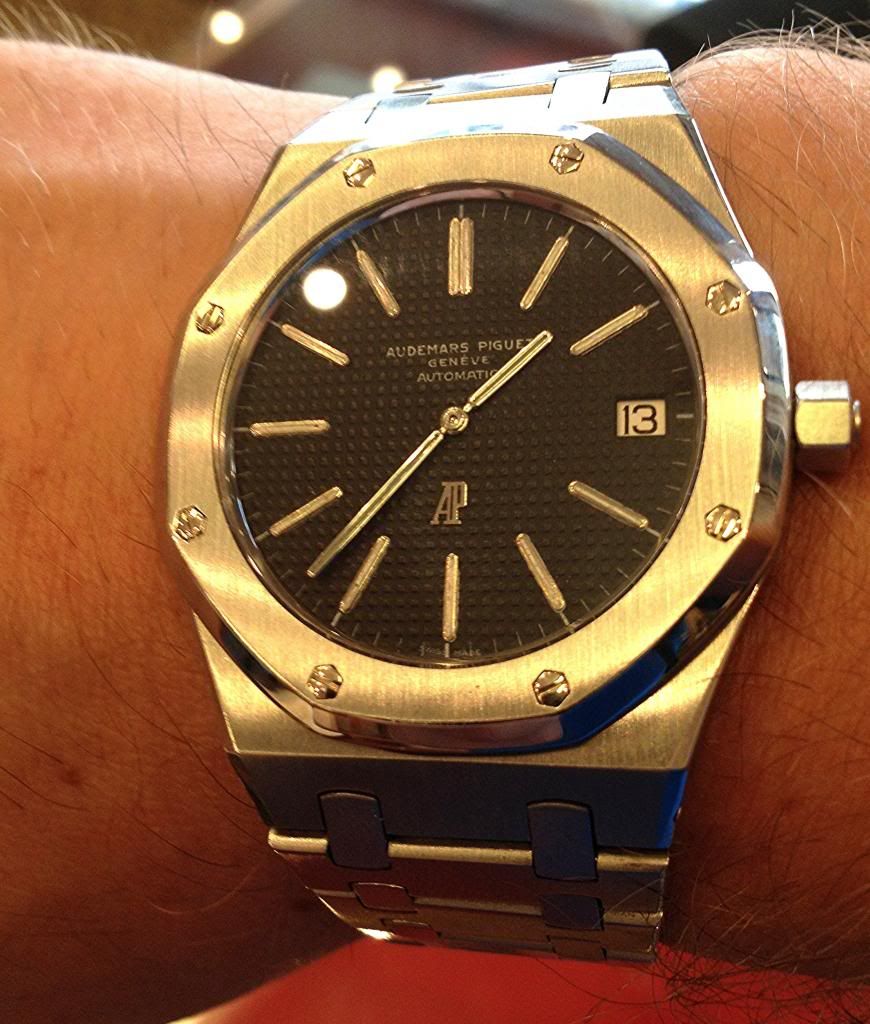 AP RO, A-series, ca. 1973 courtesy Au Vieil Horologer. A Genta classic, and quite daring when it came in the beginning of the seventies.
While at Bucherer I asked about vintage stores, and they mentioned a place called Ponti. Mr. Guttly also mentioned Ponti, and was kind enough to give me directions. Fortunately downtown Geneva is pretty compact and everything is within reasonable walking distance. Soon I found myself inside Mr. Laurent Ponti's second-hand and vintage store.
As always, the service was flawless. He had both second-hand and vintage on offer. At the time, he had quite a few Rolexes, including the famed Submariner 5513, pictured below.
Rolex Submariner 5513, mid-sixties in excellent condition, with nice patina and bezel nicely faded to a blue-grey color. Courtesy Ponti joaillier, Geneve.
He also had a few vintage Rolex GMT Masters and one Breitling Chrono-Matic for sale. Apart from that it was mostly second-hand and quite a few Rolexes. So, if you are into Rolexes, this is the place to go.
After a nice chat about watches and our shared love for vintage ones, Mr. Ponti was so kind to give me directions to another vintage store in Geneva, the Horlogerie Ancienne. This one is situated on Boulevard du Theatre, not far from the Patek Philippe Museum.
Horlogerie Ancienne, nice vintage pieces beautifully presented among tools and workbenches still in use by the proprietor, who has been in the trade for more than 40 years
Soon I found myself chatting away with the Fabien, the son of the proprietor. A good selection of vintage pieces in excellent condition, among these a couple of Omega Speedmasters and Flightmasters, a Rolex Daytona from the early seventies and a couple of really nice Jaeger LeCoultre models from the late sixties/early seventies.
Jaeger LeCoultre Memovox Automatic from the late sixities, courtesy Horlogerie Ancienne, Geneva. This was NOS (New Old Stock) and absolutely flawless.
Mr. Desbiolles told me that his brother also was in the trade, operating out of Miami. A real horological family. The service was excellent and we had a nice chat about vintage watches, the thrill of collecting and the madness nowadays when it came to vintage Rolexes. I must say that the shop was an experience in itself with its workbenches and miscellaneous horological paraphernalia.
Inside Horlogerie Ancienne and one of the workbenches there. With all the different horological tools and instruments, the store was truly a magnificent experience
They even had a really nice JLC "Snowdrop" on the original bracelet. I have only seen these ones on the Internet, and it looked way better in real life. A rare piece in very nice condition.
Jaeger LeCoultre "Snowdrop", early seventies. Courtesy of Horologerie Ancienne. A rare gem in excellent condition and with the original bracelet. This is a Memovox and has the "cricket" alarm also.
Although a short stay, I managed to locate these vintage stores. All the proprietors were forthcoming and knowledgeable, but most importantly: watch enthusiasts. I really enjoyed meeting them.
I would be nice to be present at one of the auctions as well, but have to save that one for another time. Please feel free to comment if you have other vintage stores that should be visited in Geneva. I am quite sure I will come back not long from now.


Museums
There are several horological museums in Geneva, the Patek Philippe Museum being the most famous and rumored to be the best. Very much a brand museum it still has some early pocket watch pieces from other makers on display. All in all there are a lot of pocket watches here, far more than wrist watches. Don't get me wrong, these pocket watches are very fascinating and not to mention impressive.
The Patek Philippe Museum. You will find it in rue des vieux-grenadiers. A must when you visit Geneva.
I went to Bienne on a Sunday so any shopping was out of the question. But the Omega Museum was open. As a vintage Omega collector, the museum is a must, but I would say that even though you are not a Omega devotee there are plenty of stuff there to enjoy and marvel at.
The museum is located at rue Jacob-Stampfli 96, right across the road from the main factory building. I visited the museum in August which is off-season in Switzerland. As such, I had the museum to myself. But even better, I had the staff's full attention.
The Omega Museum in Bienne (Biel), rue Jakob Stampfli 96, is a very unassuming building. You will notice the large original factory building across the street first. When you see that, you know you are close.
On this particular day in August Mr. Loic Voumard was in charge. Very helpful and service-minded! And since he was wearing an absolutely beautiful Omega Speedmaster 105.012-65 in original condition we had something to talk about even before I entered the museum.
Omega Diver Prototypes (click to enlarge). Omega has been producing divers since 1932. Personally I have a weak spot for pilot and dive watches, and as such this display was fantastic. Here we have further developments of the classic "ploprof" and "SHOM" watches.
I must say I am impressed by the overall quality of the Omega pieces throughout the company's history. For me, there are no other brands who can show such a high quality and desirability in their designs. But then again, I am a fanboy.
On the way back from Basel we had a stop in La Chaux-de-Fonds and The International Museum of Horology (Musée International d'Horlogerie). La Chaux-de-Fonds is situated in the canton of Neuchatel, considered the birthplace of Swiss horology. Some of you might now that COSC also are situated here.
Musee International d'Horlogerie in La Chaux-de-Fonds, in many aspects the birthplace of the Swiss watchmaking industry back in the mid 19th century
A fantastic museum
were you can spend hours on end looking at complications, beautiful, historical and important pieces with plenty of really cool displays explaining the workings of an automatic movement or the principle of the mainspring and escapement.
Links and Addresses
Bijouterie Bucherer
Rue du Rhône 45, 1204 Genève
Rue du Port 3, 1204 Genève
Boulevard du Theatre 7, 1204 Genève
Rue Jakob-Stampfli 96, 2500 Bienne